This blog's content was taken from episode 247, "The Battle for Search and a Strange Niche ETF"
You can go check out the whole episode here:
Successful Bottleneck Businesses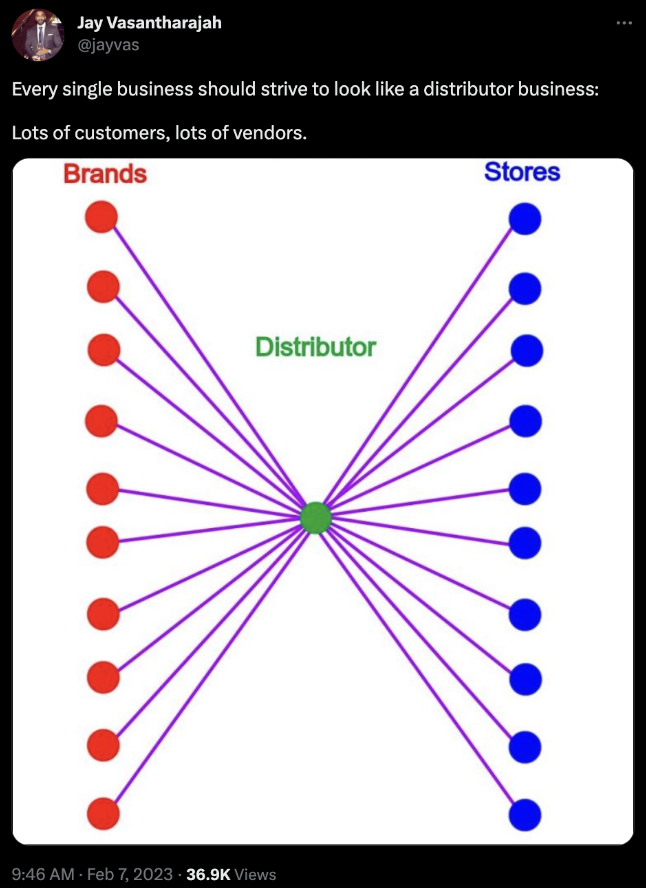 Jay Vasantharajah (@jayvas) posted this photo on Twitter with the following caption:
"Every single business should strive to look like a distributor business: Lots of customers, lots of vendors."
This is true to a certain extent.
While distributors can be great, they aren't always the best because there is usually a lot of competition and low margins. It doesn't usually flow through this monopoly diagram and there would be many more green dots.
Take a look at large pharmaceutical distributors like McKesson Corporation and Cardinal Health for example. They're both massive distributors that fit this mold but have terrible margins.
The best thing would be to reframe this as a bottle-neck business that has a lot of vendors and a lot of customers.
In an article called "Bottleneck Businesses" written by John Neff from Akre Capital, there is a quote that makes you think about the businesses you want to own.
"We think of a bottleneck business as one that a) sits atop large, global, secular growth opportunities fed by multiple industries and geographies, b) has those opportunities funneled (hence the bottleneck visual) disproportionately to it because of sustainable competitive advantages, and c) enjoys exceptional economics, often superior to the industries and customers the business serves. An electric utility, for example, would typically fail to qualify as a bottleneck business—despite often having a local monopoly in its service area—because of its limited geographic scope and generally unexceptional, regulated economics."
Bottleneck businesses lead to premium quality businesses.
There will be lots of vendors and lots of customers in the ecosystem. But they have to flow through the business that sits in the middle as a bottleneck, the toll road with high margins.
An example of a brilliant bottleneck business would be ASML. They have hundreds, if not thousands of vendors because there are so many unique parts that go into an EUV machine. Then they additionally have hundreds of customers in the semiconductor industry they are feeding critical machinery to.